So, back here in these ol' United States...slowly aclamating myself to the pace here again...yep. Things havent changed much since I left. The campaigns are becoming more frenzied as the electioneering season's coming to a close with Nov. 2nd literaly around the corner. Its become so bad John Kerry abandons pompous assh*le routine to actualy do something remotly cool like windsurf (too beach bum for my tastes) and at the same time manages to piss off Democrats. Touche comrade.

On the home front my politics have become suspect...there is rising doubt about my socialst sincerity (to tell the truth it is awfully low but then its just there to act as a buffer when around leftists- dont get me wrong, I do support social programs-those that generate results and practice fiscal responsibility- programs that work and do not create social dependence but ensure social independence, saftey nets and such, but I digress) due to my so-called "republican leanings"- i.e., support for war in Iraq, distaste for the government-controlled social welfare state, tempered patriotism....I hate Michael Moore...so on and so forth. As these are my friends and relatively good people, politics aside, I will just have to grin and keep my "republicanism" under the rader--yes the rich are evil, capitlism not good Saddam not that bad yes it really is Bushitler's fault....

Zanyway, the picture below is from the one explosion of violence after the voting on August 15th. This happened on the Monday just after...at this point A and I are at a nearby mall and will in a half hour make our way to this point...and come upon a very tense scene. The rest of the two weeks there in Venezuela were filled with tensions...people seemed to waiting for something, expecting anything to happen at any moment and holding their breath while they do it. Its as A says, the calm before the storm. Soon state elections will happen, sometime in October I believe, so we here stateside will hold our breath and see what occurs next.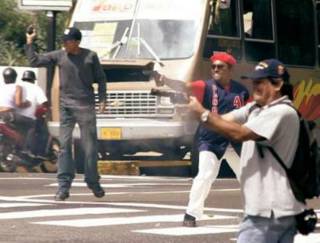 Shoot-out at the O-K corral, Caracas, Ven., the day after the referendum.